Solar Generator
Product: Solar Generator
Product Details
A 10A solar controller, the Solar ePower Cube 1500 is the ultimate portable, renewable power source that ensures you don't run out of power. This unit features 5 fold-out/slide-out 16 Watt monocrystalline solar panels to collect the power of the sun (up to 80 Watts) to charge the 55Ah hybrid AGM-gel battery. Or charge the unit with a home AC outlet or DC outlet from your vehicle. This cube has a collapsible handle and wheels for easy transport. The built-in 1,500 Watt AC inverter/3,600 surge Watt has two built-in USB ports; 5V @ 2.1 Amps. It also has a built-in storage compartment, digital LED display and features terminals for expansion with batteries or solar panels. Includes AC and DC chargers. Dimensions: 26in.L x 26in.W x 26in.H. Weight: 101 lbs.
this compact-lightweight generator creates no exhaust or noise
Recharges through wall outlet or built in Solar Panels
Wheels and handle make it ideal for camping and getting power where you need it.
This item ships within 2 - 4 weeks. (rush shipping is available for $250.00)
Perfect for: off-grid living, power outages, emergencies, natural disasters, or for more exciting events like tail-gate parties or camping, the Solar Generator will never leave you in the dark.
No matter what you're preparing for, the Solar Generator will power your needs with its built in 1500 watt power inverter and 100AH Deep Cycle Battery.
The Solar Generator is an ideal alternative to those noisy, fume laden, generators of old. Requiring no fuel and emitting zero fumes, the Solar Generator is powered by an internal 100Ah Battery that is recharged by the sun. The unit is completely self-sufficient and has an integrated collapsible handle and oversize wheels to make transporting the Solar Generator a breeze.  
You've Found the One
Every detail has been well-thought out and expertly designed; from the powerful 12V Battery, 1500 watt inverter, large oversized wheels to the folding solar panel design, every part of the Solar Generator has been devised with user convenience in mind. There are no other devices in the market that can remotely compare to the Solar Generator and its complete package; this is the only complete, compact, and ready to use unit with nothing extra to buy!
Silence is Golden
Favored by off-grid users, campers, tail gating crowds, independent artisans, outdoor enthusiasts, recreational/sports families, RV'ers, and everyday people, the Solar Generator is an ideal solution for places where "silence is golden". Being nearly silent means that you can use the Solar Generator in areas where normal generators are not allowed: on the beach, at a block party, in the woods, at craft fairs, indoors, and more! The only noise emitted by the Solar  generator is the cooling fan for the inverter; that is it!
Green & Free: Sun Power
The Sun is bright and so are you; why not harness the free power emitted by the Sun? With fuel costs reaching an all-time high and being unsafe to transport (and breathe in the fumes), why not ditch the gas-guzzling generator for one that doesn't get hot to the touch and costs you $0 in fuel costs?! Recharging is simple, just open the solar panels and let the sun do the rest; it is that easy!
Expandable Design
Though the Solar Generator is ready to use out of the box, users do have the option of adding additional solar panels and more batteries to increase run-times while decreasing charge time. Up to 220W of additional solar panels can be added and configured to suit your needs, simply plug the external panels into the ports provided on the front display panel of the Solar Lithium Generator! Adding additional batteries is as equally user-friendly; plug the corresponding cables (Black/Negative (-) & Red/Positive(+)) into the provided color-coded expansion terminals on the rear of the Solar Lithium Generator.
Emergency Services Support
Of course the Solar Generator can be used for everyday needs, but it also makes a great back-up companion during an emergency. Used by many in the HAM radio operator's community and other emergency services, the Solar Lithium generator is a capable and self-recharging Solar Generator that provides power when the grid is unavailable or when it goes down.
Easy to use portable Solar Generator power source. Fume-free and quiet for safe indoor use with your AC, DC, or USB appliances. Emergency must-have!
2 Universal AC Outlets
2 DC Outlets with auto-reset, circuit breaker
2 USB Power Ports to charge cell phones, MP3 players, tablets & e-readers, and laptops
Digital voltmeter for checking battery status
AC recharging adapter
DC recharging adapter (fused)
Collapsible handle & wheels for easy transport
Hidden storage compartment
Additional solar panels can be connected (through terminals) for more power (up to 220W additional)
Internal 20A solar controller
Additional batteries can also be connected to rear terminals
Includes AC & DC chargers
Fold-up compact design
More Product Images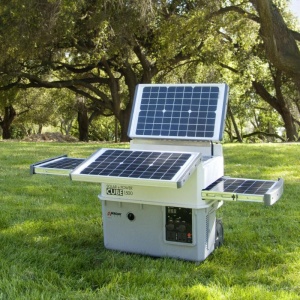 https://www.lithiumion-batteries.com/uploads/shopping_cart/19474/large_Solar-E-Cube---Lithium.jpg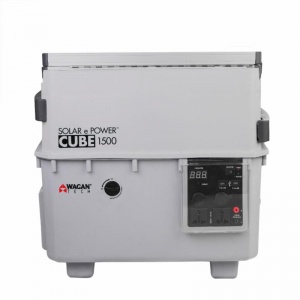 https://www.lithiumion-batteries.com/uploads/shopping_cart/19474/large_Solar-E-Cube-Lithium3.jpg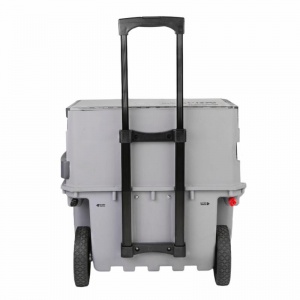 https://www.lithiumion-batteries.com/uploads/shopping_cart/19474/large_Solar-E-Cube-Lithium4.jpg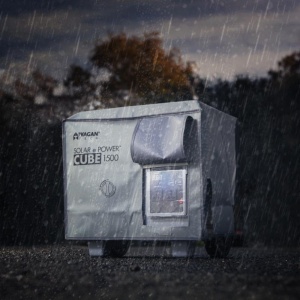 https://www.lithiumion-batteries.com/uploads/shopping_cart/19474/large_Solar-E-Cube-Lithium2.jpg