LG 300 Watt Solar Panel
Product: SS300
Product Details
18.3% Efficiency - Maximum Energy Production per Sq Foot. Perfect for space limited applications or for customers who simply want the best solar panels available.
LG's High Efficient Cell Technology
Driven by LG's own N-type technology, LG's high efficiency modules will provide customers with high economic benefits.

Light and Robust
With a weight of just 16.8 kg, LG modules are proven to demonstrate outstanding durability against external pressure up to 5400 Pa.
Reliable Warranties
LG stands by its products with the strength of a global corporation and sterling warranty policies. LG offers a 10 year product limited warranty and a 25 year limited linear output warranty.
LG Electronics, Inc. (Korea Exchange: 06657.KS) is one of the globally leading companies and technology innovator for electronics, information and communication products. The LG Electronics currently employs more than 91,000 people worldwide in 117 companies. In fiscal year 2011, 48.97 billion USD of revenue was achieved.
LG is one of the world's largest manufacturers of mobile phones, flat screen TVs, air conditioners, washing machines and refrigerators. As a future oriented company, LG enables others to use technology consisting of renewable energies. LG's high quality solar products are being manufactured in LG's leading production facility in South Korea.
Convenient Installation
LG modules are carefully designed to benefit installers by allowing quick and easy installations throughout the carrying, grounding, and connecting stages of modules.
100% EL Test Completed
All LG modules pass Electroluminescence inspection. This EL inspection detects cracks and other imperfections unseen by the naked eye.
Extra Power
To minimize losses due to mismatch, LG produces 3 groups of solar modules which are sorted by its current class. This enables MonoX™ to maximize the system's output by around 2% based off the theoretical calculation.
Features:
18.3% Efficiency. One of the very highest efficiency 60 cell solar panels available today
Manufactured and warranty backed by the electronics giant LG Electronics
Industry leading 25-year linear power warranty
10-year workmanship warranty
Narrow output tolerance with positive tolerance only (-0 /+3 %)
Excellent long-term reliability certification standards
Suitable for high snow and wind loads - tested to 5400 Pascal's or 113 lbs./sq. ft.
Black solar panel with black frame
MC4 connectors
First solar panel to have the carbon-free label.
Lab approved for testing by TÜV and Underwriters Laboratory
More Product Images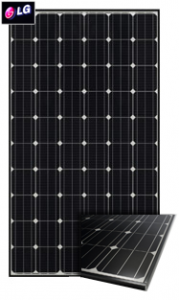 https://www.lithiumion-batteries.com/uploads/shopping_cart/19448/large_Smart-Solar-LG-300-Watt-Solar-Panel.png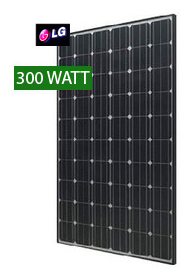 https://www.lithiumion-batteries.com/uploads/shopping_cart/19448/large_2Smart-Solar-LG-300-Watt-Solar-Panel.png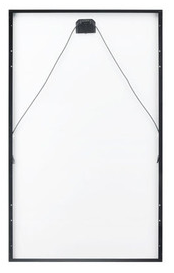 https://www.lithiumion-batteries.com/uploads/shopping_cart/19448/large_Smart-Solar-LG-300-Watt-Solar-Panel-Back.png