36V 60AH Lithium Ion Battery - Group 31
Product: CX3660
SKU: 36-LIB-60
Weight: 35 lbs
Product Details
The Chargex® CX3660 - Is a 36V 60AH Lithium Ion Battery Kit featuring the 36V 60AH Lithium Ion Batteries using the latest and most advanced Lithium Iron Phosphate - LiFePO4 Battery Technology.
---
Designed for Marine & RV applications, the CX3660 is engineered to handle extreme vibration and is Plug and Play for any application that currently uses lead acid, gel or agm batteries. Our High Output 3.2V Stainless Steel LiFePO4 Cells are bolted together for Rigid Strength and Current Conductivity vs. the tab welded method.
---
The fully automatic Built In Battery Management System provides cell balancing, over charge or over discharge protection, short circuit and reverse polarity protection all making the Chargex CX3660, one of the world's safest and most advanced lithium batteries.
---
The Chargex® CX3660 comes with the industries leading - Lifetime Warranty.


CX3660 - 36V Lithium Ion Battery Data Sheet



Material Safety Data Sheet  (MSDS)
---
POWER & ENERGY
THE ELECTRIC ADVANTAGE


| | |
| --- | --- |
| Nominal Voltage | 38.4V |
| Charge Voltage | 43.3V - 43.8V |
| Peak Discharge (5 Sec) | 600A |
| Continuous Charge / Discharge Rate | 60A |
| Capacity (amp hours) | 60AH |
| Capacity (watts) | 2304W |
| Chemistry | Lithium Iron Phosphate (LiFePO4) |

SIZE & WEIGHT
ADVANTAGE


| | |
| --- | --- |
| Model | CX3660 |
| Group Size | 31 |
| Weight | 28 Lbs |
| Length | 12.75" |
| Width | 6.75" |
| Height | 8.7" |

TECHNOLOGY
ADVANTAGE


| | |
| --- | --- |
| Usable Capacity (AH) | 60AH |
| Depth of Discharge | >100% DOD |
| Reserve Minutes @ 20A | 180 min |
| Reserve Minutes @ 50A | 66 min |
| Self Discharge | <1% per mo |
| Chemistry | Lithium Iron Phosphate (LiFePO4) |
| Cell Type |  Tab Welded Cylindrical |
| Modular | Series or Parallel Connection |


SAFETY & PROTECTION 
ADVANTAGE


| | |
| --- | --- |
| Built in Automatic Battery Protection System |        Internal |
| Automatic Low Voltage Disconnect | 30V |
| Automatic Short Circuit Protection | Instant |
| Automatic Over Voltage Protection | 47.4V |
| Automatic Reverse Polarity Protection | Instant |
| Internal Cell Thermal Safety Fuse | Yes |
| Flame Retardant Electrolyte | Yes |
| Length Way Circuit Boards | Yes |
| Automatic Internal Cell Balancing | Yes |
| Automatic Fault Recovery | Yes |
| Explosion Proof Stainless Steel Cells | Yes |


TEMPERATURE PERFORMANCE
ADVANTAGE


| | | |
| --- | --- | --- |
| Celsius | Fahrenheit | Usable Capacity |
| 60 | 140 | 103% |
| 50 | 122 | 102% |
| 40 | 104 | 100% |
| 30 | 86 | 100% |
| 20 | 68 | 98% |
| 10 | 50 | 92% |
| 0 | 32 | 83% |
| -10 | 14 | 80% |
| -20 | -4 | 70% |
| -30 | -22 | 60% |
| -40 | -40 | 10% |
| -50 | -58 | 0% |
FAST SHIPPING
ADVANTAGE


| | |
| --- | --- |
| Standard Shipping | UPS GROUND |
| Expedited Air Shipping | UPS WORLDWIDE EXPRESS |
| Shipping Time | 24 HOURS |


LIFETIME WARRANTY
ADVANTAGE


| | |
| --- | --- |
| Repair or Replace | First 5 Years |
| Repair or Pro Rate | Life Time |
| Detailed Warranty Information | Warranty |


This Product Is Perfect For
Trolling Motors, Golf Carts and many other 36V applications
More Product Images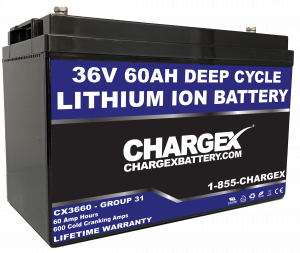 https://www.lithiumion-batteries.com/uploads/shopping_cart/19717/large_36V-60AH-Lithium-Ion-Battery.png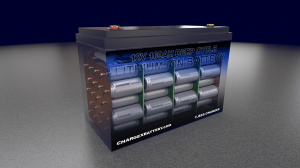 https://www.lithiumion-batteries.com/uploads/shopping_cart/19717/large_Internal-Lithium-Ion-Battery-Structure.jpg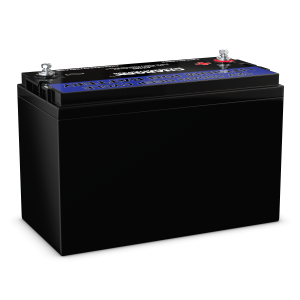 https://www.lithiumion-batteries.com/uploads/shopping_cart/19717/large_12V100AHB002.png
https://www.lithiumion-batteries.com/uploads/shopping_cart/19717/large_12V100AHC002.png
https://www.lithiumion-batteries.com/uploads/shopping_cart/19717/large_12V100AHD002.png