12V 100AH Lithium Ion Battery | Deep Cycle | Engine Starting
A Drop In Replacement & Upgrade from AGM, Gel or Lead Acid Batteries.
Smart Batteries are the Ideal battery for any application that currently uses a AGM, GEL or lead acid battery. Smart Battery gives you the ability to upgrade your current batteries to lithium ion technology that can last over 5000 cycles and has tremendous advantages in weight, performance, reliability and life compared to that of traditional lead acid batteries.
---






PRICE: $1,299.99







IN STOCK - SHIPS WITHIN 24 HOURS
| | |
| --- | --- |
| Specifications | |
| Model | SB100 |
| Group Size | 31 |
| Nominal Voltage | 12.8V |
| Charge Voltage | 14.4v to 14.6V |
| Max Charge / Discharge Current | 100A (amps) |
| Cold Cranking Amps | 1000A (amps) |
| Length | 12.75" |
| Width | 6.5" |
| Height | 8.7" |
| Weight | 28 Lbs. |
| Type | LiFePO4 |










Performance

Usable Capacity (Amp Hours)
108AH
Depth of Discharge
100%
Peak Amps 5 seconds
1000A (10C)
Reserve Minutes @ 20A
300
Reserve Minutes @ 50A
120
Self Discharge
0 for 1 year
Capacity % @ 100 Cycles
102%
Capacity % @ 500 Cycles
96.3%
Capacity % @ 1000 Cycles
90.8%
Capacity % @ 1500 Cycles
85.4%
Capacity % @ 2000 Cycles
80.1%
---
PHYSICAL SPECIFICATIONS
SB100 Data Sheet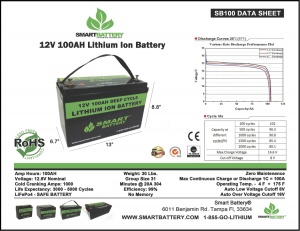 Automatic Battery Protection System
Low Voltage Disconnect
8V
Over Voltage Disconnect
15.8V
Short Circuit Protection
Instant
Reverse Polarity Protection
Instant
Cell Specifications

Connection
Type
Spec.
Bolted
Cylindrical
3.2V 5AH LiFePO4
Internal Impedance
-
≤10mΩ
Temperature Performance
Celsius
Fahrenheit
Usable Capacity
60
140
103%
50
122
102%
40
104
100%
30
86
100%
20
68
98%
10
50
92%
0
32
83%
-10
14
80%
-20
-4
70%
-30
-22
60%
-40
-40
10%
-50
-58
0%
---
FEATURES
Fully automatic built in battery protection system

Automatic low voltage cut off - 8v

Automatic over voltage cut off - 16v

Automatic short circuit cut off - instant

Automatic internal cell balancing

High quality bolted cylindrical cell design

Built in cell safety fuse " Nano Cell Fuse Technology "

Long life 3000 - 5000 cycles

Lightweight - up to 70% lighter than lead

No voltage sag - faster cranking for motors and higher voltage for continuous consistent power.

Dry Battery - no toxic lead or acid

Zero Maintenance

No venting or gassing

Heavy duty stainless steel bolts, washers and flat washers included

99.1% efficient

Green ROHS compliant - No Lead

Use 100% of rated capacity

Does not heat up during use

Connect in series or in parallel

One battery for 12v, 24v, 36, or 48v applications
---
| | | | |
| --- | --- | --- | --- |
| Cell Features | Internal Design | MSDS | Flyer |
| | | | |
---
---
The Smart Battery SB100 12V 100AH Lithium Ion Battery is the perfect replacement from a group 31 AGM, GEL or Lead Acid Battery. The SB100 is designed as a "drop in replacement" meaning all you have to do is take out your old group 31 battery and place the SB100 in the same way.
Smart Battery Lithium Ion Batteries are Green, Non Hazardous and have about 30% more energy density in the same size case as a lead battery. Because your lead batteries can only be drained to 80% and are only recommended to drain down to 50% - In some cases the Smart Battery can produce over 50% more usable energy than the same size lead battery.

As you may know, Your existing lead based batteries are inefficient, obsolete and a problem waiting to happen. Typical Lead Acid Batteries have many problems including: they loose up to 30% of their energy per month from self discharging. They have a severe voltage drop when a load is placed on them, they can off-gas, leak acid and hazardous chemicals, do not last long, they are very heavy and made of a toxic material.

Smart Battery Lithium Ion Batteries are 99.9% efficient, Provide over 100% usable energy of the rated capacity, and lose less than 1% per month self discharge.

Whether you are installing a new Solar System, replacing your Marine Boat Batteries or outfitting a commercial application, Smart Battery Lithium ion Batteries give you the chance to do energy storage right from day one. Most Important for you are the facts that Smart Batteries can last over 5000 cycles meaning you buy a Smart battery once and you are done. And considering their longevity and the efficiently they are less costly than the heavy and toxic lead acid batteries.

If you want to "go green" the lithium ion Smart Batteries are not only virtually indestructible but they are non-toxic. The Smart Battery is readily available direct through Smart Battery or by contacting one of our local distributors closest to you. This fantastic technology is making our planet a better and cleaner environment.

Why Smart Battery?
From start to finish, Smart Batteries are mass produced in one of the world's largest lithium ion battery factories, With over 3000 employees we are capable of producing up to 800,000 cells per day in full production.

Battery Protection System
Every Smart Battery comes with a powerful built in automatic battery protection system (BPS). Designed to protect the battery cells. The High Power BPS prevents the battery from over discharge by shutting down if the voltage drops to 8V, The BPS also has over voltage protection, short circuit and reverse polarity protection. All of these features increase the overall safety and reliability of the battery while keeping it running at peak performance for thousands of cycles.
Our 3.2V 5AH Cylindrical Cells are mass produced for high consistency and quality. The cells bolt through lengthway circuit boards that transfer energy keeping each cell at peak performance for thousands of cycles. The bolted design provides rugged strength for extreme durability in the worlds most demanding environments.
Each 3.2V 5AH cell is made of explosion proof stainless steel and has a built in safety fuse that will internally disconnect if a cell is over charged or short circuits. The lengthway circuit boards will remove that cell offline and the battery will continue to function normally with slightly reduced capacity. The cells also have a flame retardant electrolyte that eliminates the risk of fire and a high pressure safety valve to allow the cell to safely discharge In the event of short circuit. The cells that make up each 12V battery are matched based on 10 consistencies. Matching the cells increases the overall quality, life and performance of the battery.
Videos

---


Products customers also purchased with this battery: