Lithium ion marine batteries
A Drop In Replacement From Lead Acid, AGM or Gel Batteries.
| DEEP CYCLE | STARTING | MARINE LITHIUM ION BATTERIES
Smart Battery® Marine Lithium Batteries for Yachts and Recreational Boats. What if you never had to change your batteries again?
Our 12V Lithium Marine Batteries come with a Limited Lifetime Warranty and are suitable for any Marine Battery Application from Luxury Yachts to Fishing Boats. Every Smart Battery Marine Lithium Battery comes with a built in Battery Protection System (BPS) that will protect the battery from over voltage and from under voltage making them Plug and Play for any Marine application. The internal BPS will also maintain and balance the cells to provide you with maximum capacity during every cycle.

PLUG AND PLAY - The Internal Battery Protection System enables our batteries to be used with any Inverter / Charger or engine alternator without worrying about over charging the battery. Simply connect your cables and your ready to go. Read more about optimizing your charge controllers and inverters to get the maximum performance from our Marine Lithium Ion Batteries. Click Here
Our Lithium Ion Batteries allow you to safely drain 100% of the usable rated capacity meaning you can expect to nearly double your reserve capacity when comparing to the same size lead acid, gel or agm battery.

Smart Battery Marine Batteries are made using Lithium Iron Phosphate Technology, Known for its inherent safety and long cycle life this chemistry is safe and reliable to use with your boat. Our Lithium Ion Batteries will provide you with 100% depth of discharge for over 2000 cycles, after 2000 cycles the battery will still have 80% of its rated capacity available to use. Along with being 70% lighter than lead and having a Limited Lifetime Warranty it makes sense to buy a Marine Lithium Battery from Smart Battery for your Boat.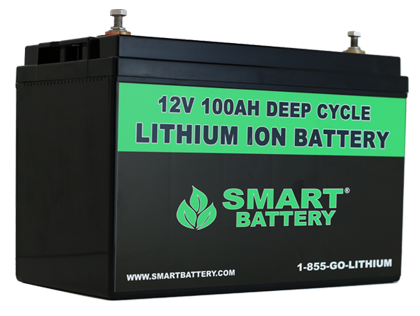 Plug & Play
Simply Connect the battery and your ready to go.
Modular
Smart Battery Lithium Ion Batteries can be connected in series or in parallel.
Built in Battery Protection
Every Smart Battery comes with a built in battery protection system designed to protect and maintain the battery.
Zero Maintenance
Our Lithium Ion Batteries require no maintenance and can hold a full charge for over 1 year.
No Memory
Smart Battery Lithium Ion Batteries can be recharged at any level.
Safety redundancy
Smart Batteries have several layers of safety systems that makes them one of the safest batteries on the planet.
---
SAME DAY SHIPPING ON IN STOCK ITEMS ORDERED BEFORE 3:00pm EST.
| MARINE LITHIUM BATTERIES | DEEP CYCLE | STARTING
| MARINE LITHIUM BATTERY CHARGERS
We offer chargers from the industries leading charger manufacturer's. Smart Battery Lithium Ion Battery Chargers are programmed specifically for our batteries.
Setting up your inverter charger
Smart Battery Lithium Ion Batteries will work with any standard marine charger or alternator. We recommend programming your inverter/charger remote to 14.6V for Bulk and Absorb, and set the float to 13.6V.
How to connect your new Smart Battery - Plug & Play
The hardest part of switching your batteries to Lithium Technology will for sure be taking out your old batteries! Simply place the Smart Battery in your battery compartment, connect the cables and your ready to go.
Deciding which Battery to Buy for your Boat?
The Smart Battery 12V 100AH Lithium Ion Battery is our most popular lithium ion battery used by the marine Industry. The SB100 will work for any Marine application including for Trolling Motors, Sail Boats, Power Boats, Yachts and Ships of any size. Our modular approach allows you to connect multiple batteries together to increase capacity and voltage.
| HOW ITS MADE - WATCH NOW
The Smart Battery® line of 12V Marine Lithium Batteries are built using our 3.2V 5AH Lithium Iron Phosphate Cells, The safest and most robust chemistry used for high capacity lithium ion batteries. In this video you will see how the bolted design of our cells and length way circuit boards provide rigid strength to the cell structure and higher current conductivity compared to tab welded cells. Every battery has a fully automatic internal
battery management system
that will balance and maintain the cells for thousands of cycles.
More Power | Less Weight
Smart Battery Lithium Ion Batteries have a steady voltage curve during use. This means that when your discharging high amp loads to run your inverter or if your cranking your engine the battery will maintain a higher voltage making your entire boat more efficient. As you may already know lead acid batteries have severe voltage drop from heavy loads, this voltage drop causes your starter to spin slower and will make your inverter run less efficient and you lose power from heat loss. Lithium Ion Batteries have stable voltage throughout the entire cycle and are 99% efficient meaning they wont heat up when drawing high loads or during charging.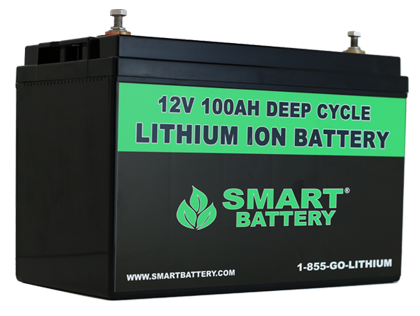 | LITHIUM TROLLING MOTOR BATTERIES
Smart Battery Lithium Batteries are ideal for any trolling motor. Click the link below to read about our Lithium Batteries commonly used for trolling motors.
WARRANTY
LIMITED LIFETIME WARRANTY
The industry's only Limited Lifetime Warranty. READ MORE
PROTECTED
Internal Battery Protection System
Every Smart Battery comes with a Automatic Built In Battery Protection System (BPS) READ MORE
SAFETY
multiple safety redundancy systems
Our LiFePO4 cells are among the safest on the planet and are considered safe and non hazardous, READ MORE
LIGHT weight

Save hundreds of pounds
Smart Battery Lithium Batteries average about 70% lighter in the same size case as a lead acid, agm or gel battery.
| Standard BCI Group Sizes
Smart Battery Lithium Ion Batteries are the same size as standard lead batteries. Simply connect your cables and your ready to go.
Tip: Keep your battery connections bolted firmly to prevent power loss due to heat from resistance created with a loose connection.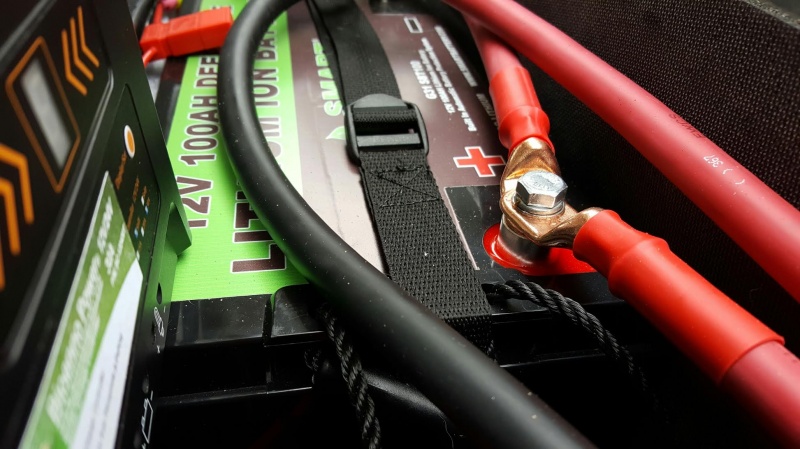 | 3.2V 5AH Smart Cell
Every Smart Battery comes built with our 3.2V Lithium Iron Phosphate (LiFePO4) Explosion Proof Stainless Steel Cells. These cells bolt together for a strong firm connection and higher electrical conductivity compared to the tab welded method. Our cells are among the safety on the planet with multiple safety redundancy features.
Thermal Fuse
Internal Cell Safety Fuse
Every cell has a built in thermal safety fuse between the anode and cathode that will internally break in the unlikely event the cell would begin to overheat.
Safety Vent
High pressure safety vent
A high pressure safety vent will flip open to release energy and prevent explosion if exposed to extreme heat.
Electrolyte
Flame Retardant Electrolyte
Our cells are manufactured with a flame retardant additive in the electrolyte making them safe.
Explosion proof

explosion proof stainless steel
Every Smart Battery cell is manufactured in a explosion proof stainless steel cylindrical case.
Contact Us Now
Contact Smart Battery today and speak to one of our professional sales engineers who will help you determine the best battery for your application. We are here daily from 8:00am to 9:00pm EST to assist with any general questions or inquires your may have. Please fill out our quick inquiry form below or click Contact Us to call now or request a call back.