LITHIUM ION MARINE BATTERIES




10X Longer Life

70% Lighter

ZERO Maintenance Five Year Warranty
---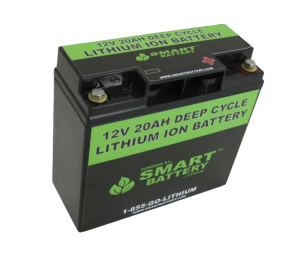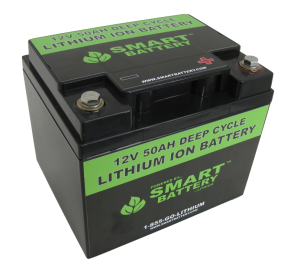 Sailing, Yachts, Trolling, Power Boats, Cruisers, Ships and more
Drop In Replacement from Lead Acid, AGM or Gel Batteries

---
12V 40AH Lithium Ion Battery
Product ID - SB40
SKU - 796762840915















For starting outboard motors
from 5 - 100H.P.

Deep Cycle for long trolling &
Reserve Capacity

Marine Starting / Deep Cycle Lithium Ion Battery


Nominal Voltage: 12.8V

Amp Hours: 40
Cold Cranking Amps: 400
Life Cycles: 3000-5000
Max Cont. Discharge: 40A


Length: 7.75"
Width: 6.50"
Height: 6.87"
Weight: 15.0 lbs

Price: $579.99



---
12V 50AH Lithium Ion Battery
Product ID - SB40
SKU - 796762840915



Nominal Voltage: 12.8V

Amp Hours: 50
Cold Cranking Amps: 500
Life Cycles: 3000-5000
Max Cont. Discharge: 50A


Length: 7.75"
Width: 6.50"
Height: 6.87"
Weight: 15.0 lbs

Price: $689.99

---
12V 80AH Lithium Ion Battery
Product ID - SB80


SKU - 796762840915





Nominal Voltage: 12.8V




Amp Hours: 80




Cold Cranking Amps: 800




Life Cycles: 3000-5000




Max Cont. Discharge: 80A


Length: 12.75"
Width: 6.50"
Height: 8.70"
Weight: 25.0 lbs

Price: $1,049.99

---
12V 100AH Lithium Ion Battery
Product ID - SB100


SKU - 796762840915





Amp Hours: 100
Cold Cranking Amps: 1000
Life Cycles: 3000-5000
Max Cont. Discharge: 100A


Length: 12.75"
Width: 6.50"
Height: 8.70"
Weight: 28.0 lbs

Price: $1,299.99

---
12V 150AH Lithium Ion Battery
Product ID - SB150


SKU - 796762840915






Nominal Voltage: 12.8V

Amp Hours: 150
Cold Cranking Amps: 2000
Life Cycles: 3000-5000
Max Cont. Discharge: 200A


Length: 20.47"
Width: 10.50"
Height: 9.00"
Weight: 65.0lbs

Price: $1,899.99

---
12V 200AH Lithium Ion Battery
Product ID - SB200


SKU - 796762840915






Nominal Voltage: 12.8V

Amp Hours: 200
Cold Cranking Amps: 2000
Life Cycles: 3000-5000
Max Cont. Discharge: 200A


Length: 20.47"
Width: 10.50"
Height: 9.00"
Weight: 72.0lbs

Price: $2,399.99

---
12V 300AH Lithium Ion Battery
Product ID - SB300


SKU - 796762840915






Nominal Voltage: 12.8V


Amp Hours: 300




Cold Cranking Amps: 3000




Life Cycles: 3000-5000




Max Cont. Discharge: 300A


Length: 20.47"
Width: 10.50"
Height: 9.00"
Weight: 92.0lbs

Price: $3,499.99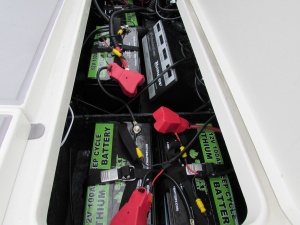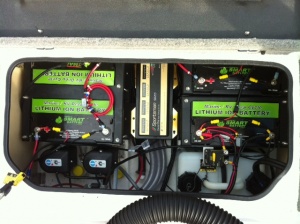 DROP IN REPLACEMENT FROM LEAD ACID, GEL OR AGM BATTERIES
---
Smart Battery Lithium Ion Batteries are 70% Lighter and can last 10X longer than lead acid, agm and gel batteries. A lithium Ion Battery does not have voltage drop like a lead acid battery so when you crank your motor you will notice a faster start.
Fish finders, Radars and transducers all perform better with higher voltage.
Lithium Ion Batteries do not heat up while charging like lead acid batteries. You will get around 15% faster recharge time with no heat loss.
A lead acid battery is typically recommended to drain 50% and then recharge. therefore if you have a 200AH lead acid battery you are only getting about 100AH of usable energy. Smart Battery Lithium Ion Batteries provide 100% of usable capacity with no heat loss. A 12V 100AH Smart Battery will provide you with 100 amps of usable energy.
---
Voltage Curve is nearly flat giving out higher voltage and power through out the cycle.
Holding the voltage higher during use provides higher torque for trolling motors, winches and starters. Other devices such as transducers and radar will have stronger and more accurate signals and readings.
A 12V 100AH Smart Battery weighs 30 lbs. whereas a 12V 100AH AGM battery weighs typically 79 lbs. The Smart Battery will run for up to 20 minutes longer at an 80A draw than an AGM battery.
---
Fill out our quick and easy contact form if you're interested in more information about our Marine batteries
Group 31 Lithium Ion Vs. AGM Comparison CLICK HERE
---