Lithium ion marine batteries
A Drop In Replacement From Lead Acid, AGM or Gel Batteries.
| DEEP CYCLE | STArting | MARINE LITHIUM ION BATTERIES
A drop in Replacement and Upgrade from Lead Acid, AGM or Gel Batteries.
Smart Battery offers state of the art technology "Lithium Iron Phosphate" the safest and most robust lithium chemistry. Capable of reaching over 5000 cycles, A Smart Battery can be re-charged thousands of times providing 100% DOD (depth of discharge). Smart Battery is perfect for any marine application both deep cycle and starting.
SAME DAY SHIPPING ON IN STOCK ITEMS ORDERED BEFORE 3:00pm EST.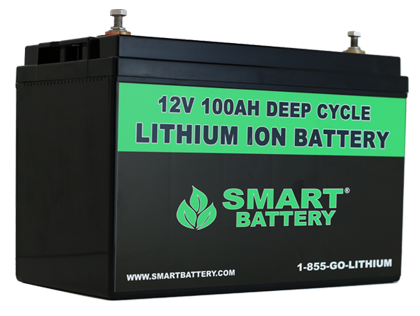 ---
| marine Lithium ion battery chargers
We offer chargers from the industries leading charger manufacturer's. Smart Battery Lithium Ion Battery Chargers are programmed specifically for our batteries.
Plug & Play
Simply Connect the battery and your ready to go.
Modular
Smart Battery Lithium Ion Batteries can be connected in series or in parallel.
Built in Battery Protection
Every Smart Battery comes with a built in battery protection system designed to protect and maintain the battery.
Zero Maintenance
Our Lithium Ion Batteries require no maintenance and can hold a full charge for over 1 year.
No Memory
Smart Battery Lithium Ion Batteries can be recharged at any level.
Safety redundancy
Smart Batteries have several layers of safety redundancy systems that make it one of the safest batteries in the known universe.
WARRANTY
LIMITED LIFETIME WARRANTY
The industry's only Limited Lifetime Warranty. READ MORE
PROTECTED
Internal Battery Protection System
Every Smart Battery comes with a Automatic Built In Battery Protection System (BPS) READ MORE
SAFETY
multiple safety redundancy systems
Our LiFePO4 cells are among the safest on the planet and are considered safe and non hazardous, READ MORE
LIGHT weight

Save hundreds of pounds
Smart Battery Lithium Batteries average about 70% lighter in the same size case as a lead acid, agm or gel battery.
More Power | Less Weight
The 28 pound SB100 is a Dual Purpose, Deep Cycle and Starting Marine Lithium Ion Battery. With over 1000 cold cranking amps for starting and over 100AH of usable capacity, the SB100 is the highest performance group 31 battery on the market. Our Heavy Duty Built in Fully Automatic Battery Protection System protects and maintains the cells for thousands of cycles. With a Limited Lifetime Warranty and up to 5000 life cycles, The SB100 is the logical choice for any marine application and has been setting the standard for over 5 years with nearly 10,000 working batteries in service around the world.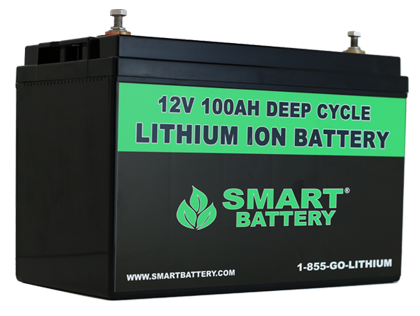 HOW ITS MADE - WATCH NOW
Smart Battery line of 12V Lithium Batteries are built using our 3.2V 5AH Lithium Iron Phosphate Cells, The safest and most robust chemistry used for high capacity lithium ion batteries. Designed for applications that demand huge amounts of power and require high quality batteries that can withstand harsh conditions in rugged environments both on land and at sea. The bolted design of our cells provide strength to the pack and better current conductivity compared to tab welded cells. They bolt through length way circuit boards that keep the cells balanced and provided additional rigid strength to the pack.

| Standard BCI Group Sizes
Smart Battery Lithium Ion Batteries are the same size as standard lead batteries. Simply connect your cables and your ready to go.
Tip: Keep your battery connections bolted firmly to prevent power loss due to heat from resistance created with a loose connection.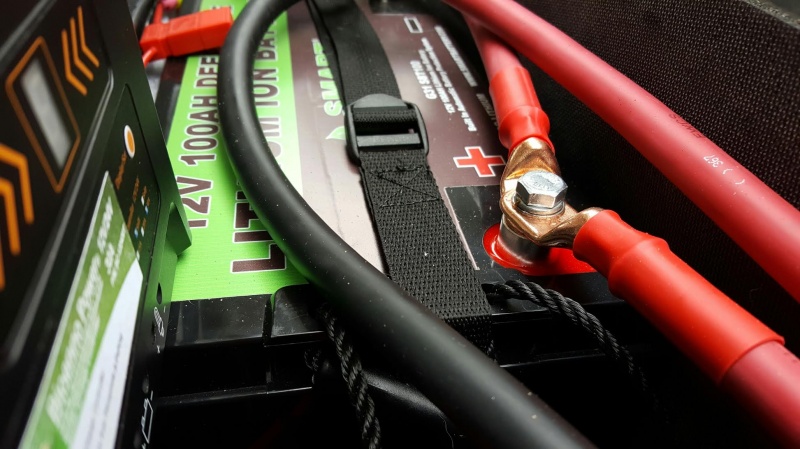 3.2V 5AH Smart Cell
Every Smart Battery comes built with our 3.2V Lithium Iron Phosphate (LiFePO4) Explosion Proof Stainless Steel Cells. These cells bolt together for a strong firm connection and higher electrical conductivity compared to the tab welded method. Our cells are among the safety on the planet with multiple safety redundancy features.
Thermal Fuse
Internal Cell Safety Fuse
Every cell has a built in thermal safety fuse between the anode and cathode that will internally break in the unlikely event the cell would begin to overheat.
Safety Vent
High pressure safety vent
A high pressure safety vent will flip open to release energy and prevent explosion if exposed to extreme heat.
Electrolyte
Flame Retardant Electrolyte
Our cells are manufactured with a flame retardant additive in the electrolyte making them safe.
Explosion proof

explosion proof stainless steel
Every Smart Battery cell is manufactured in a explosion proof stainless steel cylindrical case.
Setting up your inverter charger.
Smart Battery Lithium Ion Batteries will work with any standard marine charger or alternator. We recommend programming your inverter/charger remote to 14.6V for Bulk and Absorb, and set the float to 13.6V.
How to connect your new Smart Battery - Plug & Play
The hardest part of switching your batteries to Lithium Technology will for sure be taking out your old batteries! Simply place the Smart Battery in your battery compartment, connect the cables and your ready to go.
Deciding which Battery to Buy for your Boat?
The Smart Battery 12V 100AH Lithium Ion Battery is our most popular lithium ion battery used by the marine Industry. The SB100 will work for any Marine application including for Trolling Motors, Sail Boats, Power Boats, Yachts and Ships of any size. Our modular approach allows you to connect multiple batteries together to increase capacity and voltage.
Contact Us Now
Contact Smart Battery today and speak to one of our professional sales engineers who will help you determine the best battery for your application. Our advanced customer service team is here to assist with any general questions or inquires your may have.