Lithium Ion Golf Cart Batteries
Club Car

EZGO

STEALTH

GEM CAR
STAR CAR and MOST EV Application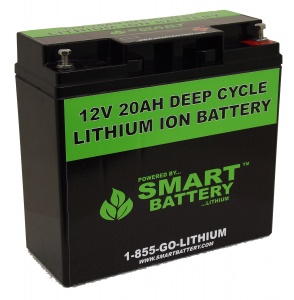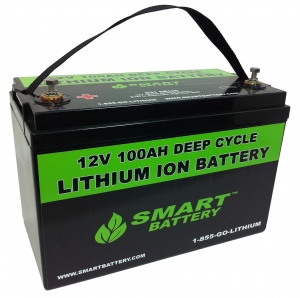 Drop In Replacement from Lead Acid, AGM or Gel Batteries.
10X Longer Life 70% Lighter Zero Maintenence Five Year Warranty

---
Most EZGO Golf Carts operate on 36 volts. Typically requiring 6 - 6V batteries.
With Smart Battery, you can replace all 6 lead acid batteries with just 3 - 12V Lithium Ion Batteries. By connecting the 3 batteries in series you are creating 36V. This results in over 350 lbs removed.
---
Club Car, Bad Boy and Cushman Golf Carts typically run on a 48 volts which requires 8 - 8V batteries.
You can remove over 500 lbs. of lead acid batteries by replacing them with only four Smart Batteries.
36V Golf Carts need 3 - 12V Lithium Ion Batteries
48V Golf Carts need 4 - 12V Lithium Ion Batteries

The following model Lithium Batteries are suggested for golf carts
---
12V 40AH Lithium Ion Battery
Product ID - SB40
SKU - 796762840915







Marine Starting / Deep Cycle Lithium Ion Battery


Nominal Voltage: 12.8V

Amp Hours: 40
Cold Cranking Amps: 400
Life Cycles: 3000-5000
Max Cont. Discharge: 40A


Length: 7.75"
Width: 6.50"
Height: 6.87"
Weight: 15.0 lbs

Price: $579.99



---
12V 50AH Lithium Ion Battery
Product ID - SB40
SKU - 796762840915


Nominal Voltage: 12.8V

Amp Hours: 50
Cold Cranking Amps: 500
Life Cycles: 3000-5000
Max Cont. Discharge: 50A


Length: 7.75"
Width: 6.50"
Height: 6.87"
Weight: 15.0 lbs

Price: $689.99



---
12V 80AH Lithium Ion Battery
Product ID - SB80


SKU - 796762840915





Nominal Voltage: 12.8V
Amp Hours: 80
Cold Cranking Amps: 800
Life Cycles: 3000-5000
Max Cont. Discharge: 80A


Length: 12.75"
Width: 6.50"
Height: 8.70"
Weight: 25.0 lbs

Price: $1,049.99



---
12V 100AH Lithium Ion Battery
Product ID - SB100


SKU - 796762840915





Nominal Voltage: 12.8V

Amp Hours: 100
Cold Cranking Amps: 1000
Life Cycles: 3000-5000
Max Cont. Discharge: 100A


Length: 12.75"
Width: 6.50"
Height: 8.70"
Weight: 28.0 lbs

Price: $1,299.99





---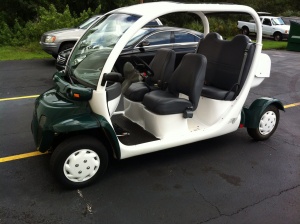 Fill out our quick inquiry form to get more information about converting your golf cart to Smart Battery Lithium Ion Batteries