|
LITHIUM

ION

GOLF CART BATTERIES

Smart Battery® Lithium Ion Batteries are Plug and Play, Simply take out your old batteries and put in the Smart Batteries, turn on the key and your ready to go. Our batteries can extend the range of your golf cart and last over 10 years or more than 3000 cycles.
SMART BATTERY®

| A DROP IN REPLACEMENT FROM LEAD ACID BATTERIES.
Are you considering Lithium Batteries for your golf cart? Here are some of the advantages you can expect with Smart Battery®
Longer Life
Smart Battery® Manufactures our Batteries with Lithium Iron Phosphate Chemistry which has a life expectancy of 3000 - 5000 cycles. On average good quality Lead Acid batteries last between 100 - 300 cycles in a golf cart, After 150 cycles the lead acid batteries can produce less than half of their rated capacity meaning you would be getting less than half of the range you got when they were new. This means you would need to replace Lead Acid batteries over 30 times to get the same cycle life as 1 set of Smart Battery® Lithium Batteries.
Less Weight
Smart Battery® Lithium Batteries weigh about 70% lighter than lead batteries. A typically 48V Golf Cart will have around 500 lbs. of lead acid batteries. Switching to Lithium will remove over 400 lbs. out of the cart. This will reduce the amount of energy required to get your cart up to speed and will help reduce wear and tear on your carts controller, motor, suspension, frame and tires.
Higher Voltage
Smart Battery® Lithium Golf Cart Batteries hold a higher voltage during use than lead batteries. This equals more torque for your motor and allows the controller and electronics to run at their optimal efficiency. When you step on the pedal with Lead Batteries the voltage can drop below 10V causing the controller to run inefficiently and providing less power to the motor reducing your torque. The higher voltage of Smart Battery® Lithium Golf Cart Batteries will allow your cart to get up to speed quicker and hold the speed higher throughout the entire charge cycle and while going up hills.
Charge Faster
Smart Battery® Lithium Batteries are 99.1% efficient whereas Lead Acid Batteries can be as little as 50 - 80% efficient. When you charge your lead acid batteries you can lose anywhere from 10% - 50% of the energy from the charger to your batteries. This means 50% of the power used to charge your golf cart is being lost due to resistance from the lead batteries. Using your existing charger Lithium Batteries can charge up to 50% faster. Smart Battery® recommends you purchase one of our chargers for your golf cart to get the best performance and longest life from our Lithium Golf Cart Batteries. Smart Battery® Lithium batteries can be recharged in less than 1 hour when you purchase a high speed Lithium Charger from us.
More Capacity
Smart Battery® Lithium Golf Cart Batteries are designed to allow you to safely use 100% of the rated capacity without lowering the life expectancy. Lead Acid batteries are only recommended to be drained 50% meaning a 100AH Lead acid battery should only be drained 50%. Imagine filling up your gas tank with 100 gallons of gas and the car only being able to use 50 gallons before needing to refuel.
LifeTime Warranty
Smart Battery® provides a Limited Lifetime Warranty to protect your investment in our products. With a life expectancy of up to 5000 cycles this means you may never have to replace the batteries in your cart again. Even if you used the cart every day draining the batteries 100%, you could expect more than 10 years out of the batteries - 365 days per year X 10 years is 3,650 cycles.
Life at 2000 cycles
Smart Battery® Lithium Golf Cart Batteries will maintain over 80% of their rated capacity after 2000 cycles at 100% depth of discharge. This means if you have a 100AH Lithium Battery, after 2000 cycles it will be an 80AH battery, or if you could go 100 miles when the Lithium Batteries were new, you would still be able to go 80 miles after 2000 cycles.
No Memory
Smart Battery® Lithium Batteries have no memory and can be recharged at anytime no matter if you went 500 ft. or 50 miles. To get the best life out of your lead batteries it is recommend you use the recommend depth of discharge every time before recharging.
48V Golf Carts
If your considering upgrading your 48V Golf Cart with State of The Art Lithium Ion Battery technology you will only need 4 - 12V Lithium Ion Batteries connected in series to replace 8 - 6V Lead Batteries.
36V Golf Carts
Converting your 36V Golf Cart to Lithium Ion Batteries is simple and easy with Smart Battery Lithium Ion Batteries. A 36V Golf Cart only requires 3 - 12V Lithium Ion Batteries connected in series to replace 6 - 6V Lead Batteries.
48V LITHIUM BATTERY KITS | FOR ALL 48V GOLF CARTS
36V LITHIUM BATTERY KITS | FOR ALL 36V GOLF CARTS
SMART BATTERY®

| Lithium Batteries work with all golf cart manufacturer's
WARRANTY
LIMITED LIFETIME WARRANTY
The industry's only Limited Lifetime Warranty. READ MORE
PROTECTED
Internal Battery Protection System
Every Smart Battery comes with a Automatic Built In Battery Protection System (BPS) READ MORE
SAFETY
multiple safety redundancy systems
Our LiFePO4 cells are among the safest on the planet and are considered safe and non hazardous, READ MORE
LIGHT weight

Save hundreds of pounds
Smart Battery Lithium Batteries average about 70% lighter in the same size case as a lead acid, agm or gel battery.
Lithium Ion Golf Cart Chargers
Smart Battery offers several Lines of Lithium Chargers for Golf Carts.
Charging FAQ's
Our batteries can be charged using the standard charger that came with your cart however we do recommend purchasing a Smart Battery Lithium Ion Battery Charger to get the maximum performance and longest life out of the batteries. Lithium Ion Battery Chargers
Plug and Play
Simply take out your lead acid batteries, put in 3 or 4 Smart Battery's depending on if you have a 36V or 48V Golf Cart. Connect the Smart Battery's using your existing cables. Turn on the key and press the pedal, Now your ready to go!
WORLDWIDE SHIPPING
We offer Worldwide door to door shipping. Simply place your order and we ship with UPS Ground to your home or business. Most Smart Battery products ship in fiberboard boxes and weight less than 35 lbs making it easy to receive them anywhere around your office or home.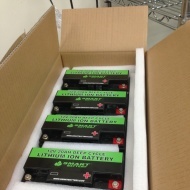 Contact Us Now
Contact Smart Battery today and speak to one of our professional sales engineers who will help you determine the best battery for your application. Our advanced customer service team is here to assist with any general questions or inquires your may have. Please fill out our quick inquiry form below or click Contact Us to call now or request a call back.