---
2014 Ranger Z520C with our 12V 100AH Lithium Ion Batteries.
Ray Van Horn Host of the Gypsy Angler TV show with the brand new Ranger Z520C Boat Powered By our 12V Lithium Marine Batteries.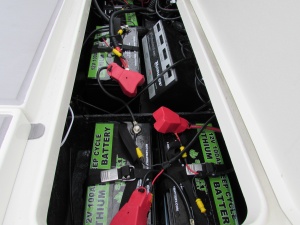 RANGER Z520C Boat - Powered By Lithium®
This Ranger Z520C requires 4 batteries to run the trolling motor, crank the engine and run all of the high tech electronics Ranger has through out the boat.
By eliminating 320 Lbs. of heavy lead acid batteries and replacing with 120 lbs. of Lithium. The Z520C is 200 lbs. lighter in the stern.
" Thats a game changer " - Ray Van Horn


---
Ish Monroe - Pro bass Fishing Angler For Smart Battery®
So, I am fired up with the new Lithium Batteries. They have been awesome on the water because I am putting in long days, and I am hammering on my MotorGuide; HARD! I guarantee you I spent at least 8 hours on the trolling motor and didn't even have a glitch, and the batteries still charged in two and a half hours.
---
Dave Sheffield - Pro Bass Fishing Angler
In a word, WOW!! My Bass Cat Puma FTD is a different animal now. From cutting through Hydrilla beds on Lake Okeechobee, to fishing the strong current after the flood on Lake Logan Martin, my MotorGuide Tour 109 runs strong all day long. I demand a lot from my three 100ah Smart Battery Lithium batteries, often practicing from dawn to dusk. For the Mercury 250 ProXS, that requires a minimum of 1000 marine cranking amps, it also gets a 100ah Lithium. Running 3 large Lowrance HDS units, Structure Scan, two 8' Power Poles and live wells all day, I never have to worry on reserve. Due to the huge weight savings, my boat planes faster, stays on plane slower, gets better gas mileage and IT'S FASTER. My four previous AGM batteries weighed in at a stout 297lbs! Now I carry a mere 112lbs. It's like a grown man was removed from my bilge. All of this and they only take 2-3 hours to recharge. Am I excited, You Bet I am!! Dave Sheffield
---
POWERED BY LITHIUM - Golf Course Review
CLICK HERE
for the full review.
---
Sean O'Connell - Pro Tournament Fisherman CLICK HERE

for the full review.



---

Jeff Aul - Pro Bass Fishing Angler
I first heard of lithium ion marine batteries from watching a YouTube video of Bassmaster Elite Series Pro's using them. They seemed genuinely impressed by the batteries and explained many of the benefits.
CLICK HERE
to read the full review.
---
2014 Ranger Z 521c Bass Boat - Jimmy Brewer Pro Bass Fishing Angler
4 - 12V 100AH Lithium Ion Batteries
---
Fast Service
Thank you so much for getting these batteries to us next day, they arrived by 9:00am just like you said. It was very impressive ordering these batteries at 2pm and getting them next day by 9:00am you're the best!
---
Thanks for all Your Help
Your customer service is very good, quick replies to my emails and always answer the phone. Our company is driven from our relationships with our suppliers, and we will continue ordering from you.
---
Excellent Product
I have researched lithium ion batteries for the past year. Our company requires strict standards for quality and service from a supplier. when I came across your batteries at the Battery Show in Detroit I thought the product was to be too good to be true. After a trip to your office in Tampa and meeting your team we were very impressed.
---
Perfect Fit
"I have just received my lithium batteries, and they fit perfectly where I took out my lead acid batteries. my RV is staying charged longer and recharges much faster.
---
Very Easy to Understand
Thank you for everything. Your products are very easy to understand and work exactly as you described. We still have not been able to drain them in one day of trolling even with strong winds and current holding my trolling motor back.
---
Excellent Performance
My new lithium batteries just arrived for our floor sweeping machine. The floor sweeper performs and handles much easier with less weight, and stays charged twice as long as the lead battery which allows us to complete our jobs in less time. The sweeper has full power for the entire charge and runs like new again.
---
---