48V 100AH Deep Cycle Lithium Ion Battery
The Smart Battery 48V 100AH Deep Cycle Lithium Ion Battery offers state of the art technology "Lithium Iron Phosphate" the safest and most robust lithium chemistry. Capable of reaching over 5000 cycles, The SB48100 can be re-charged thousands of times providing 100% DOD (depth of discharge) The Smart Battery SB100 is perfect for solar, Telecom, Wind, Marine RV and deep cycle applications.



Product ID: SB48100
PRICE: $4,999.99
Product Specifications:
Built In Fully Automatic Battery Management System

Nominal Voltage 51.2V
Nominal Capacity 100AH / 1200wh

Continuous Amp Draw 400A
Peak Amp Draw/ 1000A 5 sec.

Maximum Charge Current 400A

Discharge cut off voltage 40V
Life Cycle up to 5000 cycles
Capacity after 2000 cycles @ 100% DOD 80AH
Length: 24.4"
Height: 10"
Width: 17.5"

Weight: 120 lbs.
Price: $4,999.99

This Product ships within 20 days
---
| | |
| --- | --- |
| SB48100 Technical Data | |
| SPECIFICATION | DATA |
| 48 volts 100 amp hours | Lithium Iron Phosphate Battery |
| Charging Current | 1 - 400 amps |
| Charging Voltage | 58.4V |
| Max continuous Discharge Current | 400 amps |
| Cold Cranking Amps | 1000A |
| Height | 10" |
| Width | 17.5" |
| Length | 24.4" |
| Weight | 120 lbs. |
FEATURES
Fully automatic built in battery protection system
Automatic low voltage cut off - 40v
Automatic over voltage cut off - 63.2v
Automatic short circuit cut off - instant
Automatic internal cell balancing
High quality bolted cylindrical cell design
Built in cell safety fuse " Nano Cell Fuse Technology "
Long life 3000 - 5000 cycles
Lightweight - 120 lbs.
Dry Battery - no toxic lead or acid
Zero Maintenance
No venting or gassing
Heavy duty stainless steel bolts, washers and flat washers included
99.1% efficient
Green ROHS compliant - No Lead
Use 100% of rated capacity
Does not heat up during use
---
DOWNLOAD DATA SHEET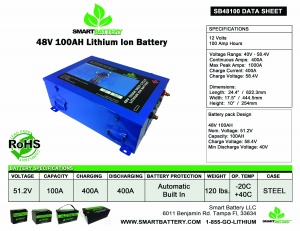 ---