---
Smart Battery® Lithium Ion Batteries are designed to replace outdated Lead Acid, Gel and AGM batteries.
Smart Battery® is the #1 selling brand of 12V Lithium Ion Batteries worldwide!
Drop In Replacement - Same group sizes as standard lead acid batteries.
Connect in parallel or in series
Zero maintenance

70% lighter than lead acid
99.1% efficient
Safe - ROHS compliant No Lead or Acid
Need help or more information?
Call us toll free at: 1-855-465-4844 or local 813-279-2712
Why Choose Smart Battery®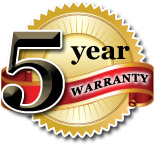 Hundreds of products in stock and ready to ship
Excellent customer service and 24/7 online support
Highly reliable products and the industries best warranty - 5 year
Green products - ROHS compliant
Worldwide shipping, import / export from our Tampa FL international headquarters and distribution center
---
Smart Battery® has multiple distribution centers around the world, we stock hundreds of products available for delivery almost anywhere in the world.
Our state of the art factory just finished in June 2013 is the latest Manufacturing and R&D facility for Lithium Ion Batteries the world over. 1000 employees and 100 engineers and researchers design the latest advancements in lithium ion battery technology here, We employ famous scientist's from major universities. This factory produces the highest quality, mass produced 12V Lithium Ion Batteries specifically designed to replace lead acid battery technology with a green alternative that is not only up to 70% lighter but can provide thousands of more cycles for longest life.
---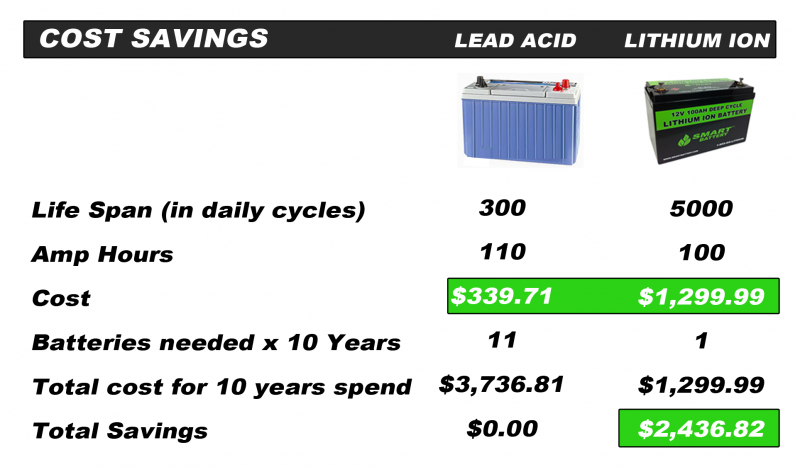 No matter how you play with the numbers, formulas and assumptions - Over the life of the battery the Smart Battery® LifePO4 costs less and you do not have to change them out every few years.
Imagine what your lead batteries will cost in 3 years when you replace them?



---
Advanced RV is now more advanced than ever! Utilizing the most advanced lithium ion batteries from Smart Battery®, Their customers can camp without the worry of LPG or noisy fuel burning generators.

When camping off grid having enough battery power is an understatement. Typically requiring large banks of heavy lead acid batteries, noisy generators or LPG systems.

Smart Battery Lithium Ion technology is up to 70% lighter and has more power than a Standard Lead or AGM battery of equal size. generally a 60AH Lithium Ion Battery is about the same power as a 100AH lead battery.
---


HEAVY DUTY - BUILT IN BATTERY PROTECTION SYSTEM
Our Internal safety system is designed with the latest technology that allows us to build in the ultimate battery protection, For worry free use.
The Smart Circuit board will protect the battery from almost any external accidental occurrence that would normally cause damage to a lithium battery. The internal Smart Circuit Board will automatically disconnect if the battery drains below 8 volts. It will automatically reconnect when the charger is turned on. This protects the battery from over-discharging and damaging the cells. This patented technology also protects the battery from Over-charge, Short Circuit and Reverse Polarity.
The Smart Circuit Board is marine grade for maximum strength and reliability in the worlds most demanding environments. Designed to handle Heavy Duty High Amp Loads the Smart Circuit Board allows customers to use 100% of the rated capacity while maintaining maximum performance and life expectancy.